March Newsletter - Mar 02, 2008

Greetings! We know it's been awhile since we've been in touch, and we're excited to catch you up on all that's been happening around Green Halloween and beyond.
Kedzie Press to publish two books by Corey & Lynn
Last December, we signed a contract to write Celebrate Green: Creating Eco-Savvy Holidays, Celebrations and Traditions for the Whole Family, to be published this October. The book is jam packed with information and ideas for people who want to green up their holidays and year 'round celebrations such as birthdays, weddings and more.
Currently, we're thinking about cover blurbs and marketing. If you happen to be on a first name basis with anyone well-known, whom you think would make a good cover contributor, just let us know.
The second book coming out at the same time, is My Green Halloween Treasures. Initially written by Lynn as an e-book available on the Green Halloween site, the story remains the same, but Kedzie hired a talented illustrator, Jeff Duckworth, who is bringing new life to the little pumpkin and her Halloween adventure.
One of the most exciting aspects of these book deals is that Kedzie, in collaboration with Eco-Libris, has launched the Kedzie Million Tree-A-Thon. For each book sold, Kedzie Press will plant one tree, with the goal of planting one million trees by December 2009. Eco-Libris is a green business that works with book readers, publishers, writers, bookstores, and others in the book industry to balance out the paper used for books by planting trees.
Our books will be printed on 100% post-consumer waste paper (FSC certified) and processed chlorine free. A portion of the proceeds, matched by Kedzie, will go to chosen non-profits, such as our Green Halloween beneficiary, Treeswing.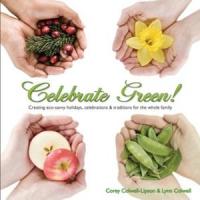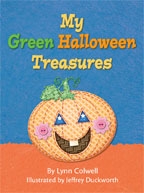 Help bring Green Halloween to your community

Following on the heels of last year's successful launch of Green Halloween in Seattle, we're heading cross country. We're seeking point-of-contact volunteers who are passionate about Green Halloween and would be willing to bring it to their cities. What would you be getting yourself into? Since this is the first time we're doing it, we can't guarantee anything. That's why we're looking for passionate, flexible people, willing to adapt the model we created in 2007 to create a successful Green Halloween on your own turf. Our expectation is that being a Green Halloween volunteer will take between two to five hours a week in the spring, with more hours as Halloween approaches; but it really will be what you decide to make of it. We provide you with the seeds; you grow it from there. We'll be with you every step of the way!
So if you're willing and able to help or just have questions, contact Corey no later than March 31, 2008.
Help us connect with sponsors
You know that six degrees of separation idea? It's really true. Almost everybody knows somebody who could give input or help in a particular situation. So, while we're hard at work connecting with people who might become national and local sponsors, we could use your help too. We're seeking progressive companies with a major interest in the green or eco market. And these days, that's just about every company! You've probably noticed how major retailers are beginning to think green. Sponsoring Green Halloween is a terrific opportunity for companies to align themselves with this movement in the most positive fashion.
We have a variety of local sponsorship levels available and we are open to discussion with any company, large or small, that shares our values. For national sponsorship details, please contact Corey.
The Green Year, LLC offers Featured Vendor opportunity
Last year, Green Halloween operated under the umbrella of Treeswing, a Seattle non-profit tackling the issue of childhood obesity. This arrangement continues through 2008. But in addition, Lynn and Corey formed The Green Year, LLC, in January, 2008, as a means to meet all of the opportunities that are opening up as a result of the success of Green Halloween.
One of the most exciting aspects of The Green Year is our Featured Vendor Program. Featured vendors must meet our "3G" standards. That is, they sell goods and or services that are 1) good for people (both those who make them and those who consume or use the products), 2) good for the Earth and or 3) good for the community (for example, they contribute a percentage of their proceeds to our beneficiary,
Treeswing
.)
Once we sign a contract, companies are licensed to use The Green Year™ and Green Halloween™ names and logos on products, marketing materials and websites.
If you'd like more information on becoming a Green Year Featured Vendor, e-mail us today.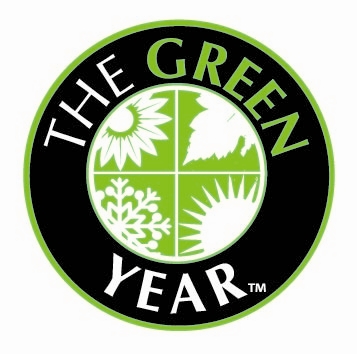 Eco-Easter
Easter is the second biggest holiday for candy (next to Halloween) so its no wonder that health conscious parents wants tips for creating a healthy Easter. But like other holidays, celebrating Easter conventional style will most likely utilize valuable (and often non-renewable) resources, generate waste, and support unethical trade practices so it's important to consider the environment and fair trade issues too. While our book has an entire section on celebrating a healthy and sustainable Easter (such as using naturally dyed eggs, making Earth-easy Easter décor, and creating cool Easter baskets from would-be trash) here are a few affordable and unique ideas for Easter treats and treasures that even the most finicky Easter Bunny will love.
Kits: How about filling (reused and reusable) baskets with gardening supplies, art materials, fair trade musical instruments, the ingredients and accoutrements for baking cookies or, for teens, all natural "spa" items.

Items from nature: Kids of all ages love colorful and interesting items from nature such as polished stones, feathers, seeds and shells. Well worn sea glass is also a magical addition.

Gifts: Instead of giving lots of "things" how about giving just one or two special items you know your child will cherish? Try a spring-inspired soft stuffed toy made from 100% soy, organic cotton or wool, some books about springtime, a spring themed puzzle or a set of poseable wooden farm animals.

Free, low-cost or low-waste items: Fill (reused and reusable) plastic or paper eggs with jokes and word games, pennies, dimes and quarters (one "golden" egg can hide a silver dollar), or "bunny money" that can be used for a special outing or meal.
Handmade: Take the

handmade pledge

and make your Easter gifts this year. Even beginning knitters can make these baby animals. If you're short of time or talent, support other artisans by buying products made by hand. You'll adore Dream A Little's "Tiny Chicks" and "Pink Bunny Pouch Necklace".

Treats: If your honey bunny has a sweet tooth and you want to include candy in her basket, be sure that jelly beans, lollipops and other confections are 100% natural and if possible, organic. Ideally, chocolate treats are organic, fair trade and shade grown. If cost is prohibitive, consider giving fewer products (a healthier choice too!) that are of better quality, rather than lots of disposable, unhealthy items. 100% raw honey sticks (not to be given to children under the age of two), organic fruit leathers, "bars" (try LARABARs and Clif Kid ZBar) or Annie's Homegrown organic "Cheddar Bunnies" are also a big hit. (Our friends at the Washington Oral Foundation will also want me to offer this gentle reminder to brush your children's teeth after they enjoy even the healthiest treats!)

Easter gifts for others: If your honey bunny has it all and you'd like to give a donation in lieu of a gift, how about supporting a local animal rescue agency's efforts to care for neglected and abandoned chicks, bunnies, lambs, puppies and kittens that began as Easter gifts but ended up unwanted?
In addition, finding ways to incorporate the "3R's" and our "3G's" into your Easter celebration is easy when you keep them at the forefront of your mind, ideally, before decisions are made. Here are some examples:
Reduce: Try buying 20% less Easter decor, food, gifts and goodies than you usually do. If 20% is a breeze, reduce by more.
Reuse: Easter presents lots of opportunities to reuse year after year. Reusing baskets, plastic/paper eggs, and decorative items year after year will help to create cherished traditions.
Recycle: Make baskets out of would-be-waste, shred magazine pages to make colorful "grass", give gifts made of recycled and recyclable materials.
Good for people: Choose handmade (by you or an artisan), made in the USA, co-operative made, fair trade or ethically sourced Easter products. Make sure that they're healthy for your family by selecting healthy food items and lead and chemical-free gift and decorative items.
Good for planet: Plant wheat grass in your children's baskets instead of buying fake, petroleum-based grass. Buy organic food and goodies. Use foods to dye eggs instead of synthetic dyes. Compost Easter eggs that have been outside of a fridge for more than 2 hours, as well as the shells from those eggs that are safe to eat.
Good for community: Choose products that "give back" (such as products from our Featured Vendors). Host an Easter party in a nursing home. Organize an Easter tree planting party in your neighborhood.
We look forward to keeping in touch with you throughout the year. Please contact us with questions, comments or ideas.
Best wishes,
Corey & Lynn
Corey Colwell-Lipson Lynn Colwell
Founder/ Director of Green Halloween The Green Year
corey@greenhalloween.org Lynn@greenhalloween.org
www.GreenHalloween.org TheGreenYear.com (coming soon!)
www.Treeswing.org